Parent & Caregiver Resources

We all want our children to be healthy, happy, and successful, and do the best we can as parents and caregivers. However, there is no manual on parenting and research has shown that the way we parent most often comes from the way we were parented.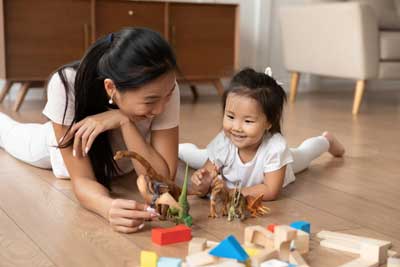 Development
All children are unique, and they grow and develop at their own pace but there are developmental milestones and stages that help guide parents and caregivers throughout childhood.
Screenings are an important tool in understanding your child's development. One of the most widely used tools is the ages and stage questionnaire (ASQ).
Nurturing Attachment
A child's early experience of being nurtured and developing a bond with a caregiver impacts every aspect of behavior and development. Consistent caregiving promotes positive interactions, healthy behaviors and an ability to cope with stress.
Visit Page
Parental Resilience
Parents that can cope with day-to-day stresses - and occasional crises - in a healthy way demonstrate resilience and model effective coping skills for their children. Ongoing life stressors, including family history of abuse or neglect, health problems, conflict in the home, and poverty may decrease the parental capacity to bounce back as easily. Explore our tools and resources for increasing parental resilience.
Social and Emotional Competence of Children
The development of a child's social and emotional skills begins with co-regulation from birth and continues to develop throughout childhood. These skills are developed through modeled behaviors, life experiences, and relationships with their caregivers. Effective social and emotional skills allow a child to self-regulate, make and maintain healthy friendships with family and peers, and experience greater success in these areas as an adult.
CDC Milestone Tracker for Parents
Milestones matter! Track your child's milestones from age 2 months to 5 years with CDC's easy-to-use illustrated checklists; get tips from CDC for encouraging your child's development; and find out what to do if you are ever concerned about how your child is developing. To access online checklists or get the app, visit CDC's Milestone Tracker App | CDC .
Social Connections
Families need healthy, supportive community to feel secure and thrive. Being connected to your family, friends, neighbors, and other community members provides a framework of support that is linked to positive parental mood, positive relationships with children, lower levels of emotional distress and overall satisfaction within family dynamics. Explore our page to learn more about benefits of social connections or to discover ways to connect in your area.